Where is Sotogrande?
By James Stewart, 02 Mar 2022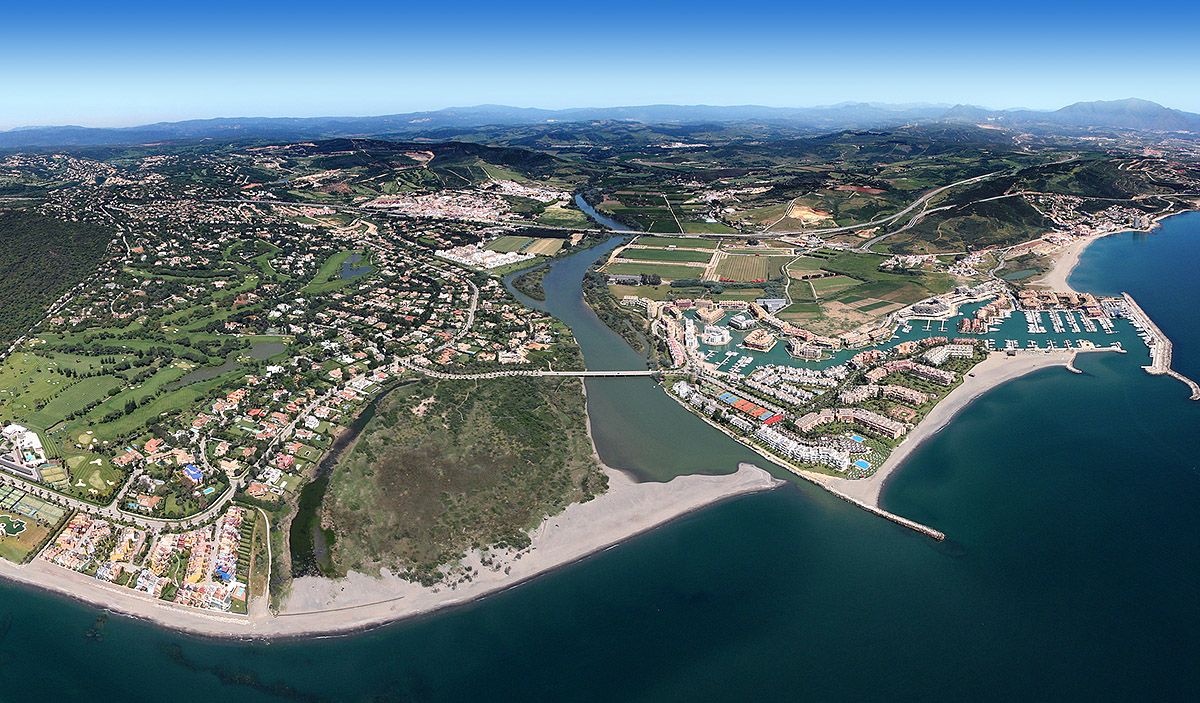 The resort of Sotogrande is privately owned and it's located in San Roque, Cadiz. It's the largest gated community in Europe. Sotogrande is famous for its luxury lifestyle. There are exclusive properties and unrivalled sports facilities for polo, tennis and world championship golf. First class restaurants, bars and boutiques provide the town with a refined, sophisticated atmosphere. Sotogrande is located amidst some of Spain's most beautiful scenery. It's one of the most sought after destinations in the world, but exactly where is Sotogrande?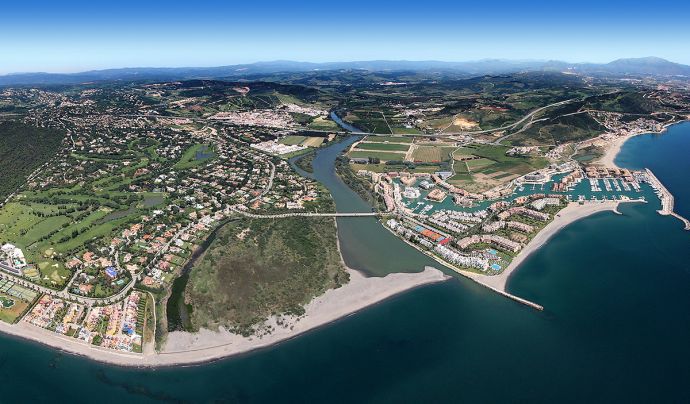 Which region is Sotogrande in?
Sotogrande is in San Roque, a municipality to the north of Gibraltar. San Roque has a rich history dating back to the early days of the Roman Empire. It is located in the east of Cadiz, a province that covers the entire southern tip of Spain.
The province of Cadiz is often regarded as one of the most beautiful along the Spanish coast. It includes whitewashed villages or pueblos blancos such as Algar and Castellar de la Frontera. There are also famous sherry towns including Jerez de la Frontera. It's here that the tradition of flamenco culture began. Cadiz shares its eastern border with the province of Malaga where you'll find Marbella and other towns along the Costa del Sol.
Cadiz, Malaga and six other provinces form Andalucia. This autonomous community has its own laws and taxation. When you purchase real estate in Sotogrande, the procedure is carried out according to the laws of Andalucia.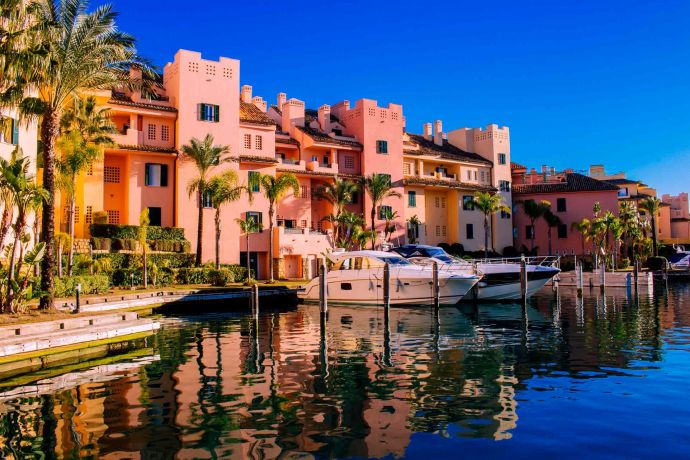 Coast
Sotogrande has a unique location on the Spanish coast. The resort overlooks the Straits of Gibraltar where the Atlantic Ocean merges with the Mediterranean Sea. It's a fascinating maritime region where you can regularly see pilot whales and bottlenose dolphins. The resort benefits from the refreshing breezes of the Atlantic and the warmth of the Mediterranean. It's a wonderful micro-climate with an average temperature of 24ºC, and more than 320 days of sunshine every year.
There is outstanding natural scenery in Sotogrande. A short drive to the north is the Parque Natural Los Alcornocales. The mountainous forests include oak and cork trees. When you explore the hiking trails, you may see the Iberian lynx, Egyptian mongoose and the Spanish Imperial eagle. The protected marshland in the estuary of the Guardiaro River lies within Sotogrande. It's a unique haven for more than 200 bird species, including herons and kingfishers.
Beaches
Sotogrande has an amazing selection of soft, sandy beaches. Playa Sotogrande is near the Guardiaro River and has a natural, unspoiled appearance. Playa Paseo del Mar has a beach club, a water sports centre and traditional chiringuitos where you can relax with refreshments. You'll find similar facilities at Playa de las Conchas. One of the most popular beach clubs, El Trocadero, is at Playa Sotogrande. The beach occupies more than two kilometres of the coast. The beach everyone loves to visit is at La Reserva. It's an inland location where golden sand surrounds an artificial lake.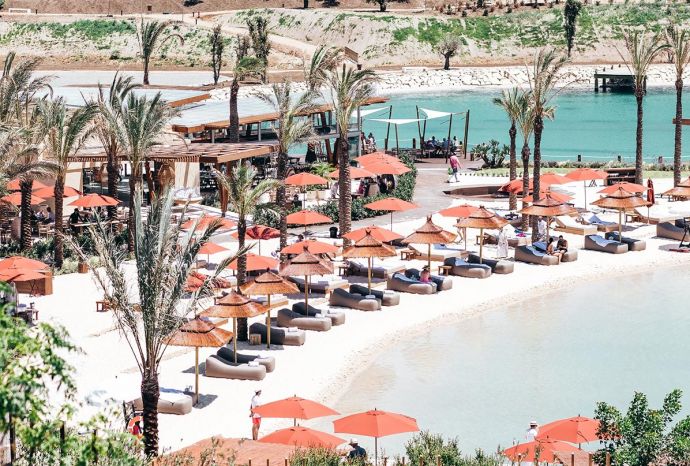 What is the Nearest Airport to Sotogrande?
Gibraltar Airport is the nearest to Sotogrande. It's located approximately fifteen kilometres to the west of the resort. You can reach Sotogrande in less than half an hour. Gibraltar is a busy airport with more than half a million annual visitors.
Malaga Aiport is approximately 100 kilometres to the east of Sotogrande. The journey takes around one hour and ten minutes. Malaga has three terminals and often welcomes eighteen million tourists every year.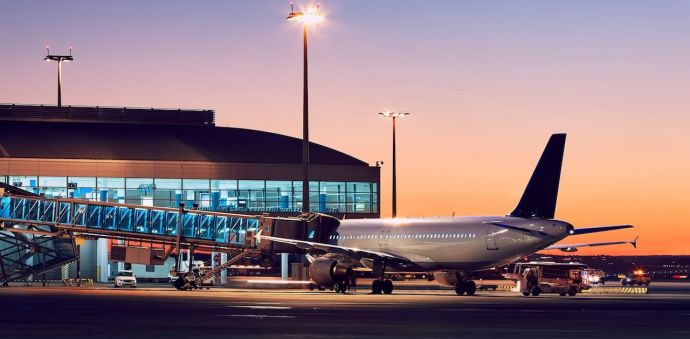 Is Sotogrande a Good Place to Live?
Sotogrande is an excellent place to live. The town covers twenty-five square kilometres and has the benefits of a secure, gated community. There are professional security personnel operating patrols twenty-four hours a day. You can visit any part of the town in safety. Even the surrounding area is virtually crime-free.
Infrastructure
Sotogrande was planned as a new resort in 1962 by the American/Filipino entrepreneur, Joseph McMicking. The streets, public spaces and amenities have been designed for convenience and style. It includes spacious, tree-lined avenues and peaceful neighbourhoods. There are many shopping malls, weekly markets and an international school with excellent reputation. Healthcare is of a superior standard.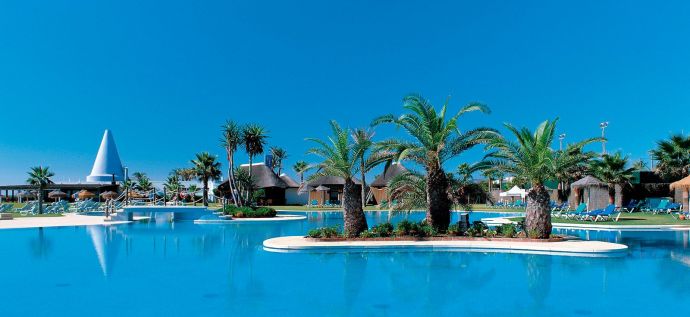 Work
It's easier than ever to combine your work with the beautiful location of Sotogrande. The resort is equipped with 300 MB fibre optic broadband. It provides fast, reliable connections for working remotely or running an online business.
Leisure
Sotogrande has everything you could wish for during your leisure hours. Golf is a main attraction. The eighteen-hole course at Royal Valderrama is one of Europe's finest venues. It was designed by Robert Trent Jones and hosted the Ryde Cup in 1999 and other important championships. La Reserva is a magnificent golf course. It was planned by Cabell B. Robinson and has amazing views of the coast.
The exclusive Santa Maria Polo Club is based in Sotogrande. There are also regular equestrian and yachting events. You can enjoy many activities including, tennis, cycling and walking. Alternatively, relax in a local spa or visit a gym.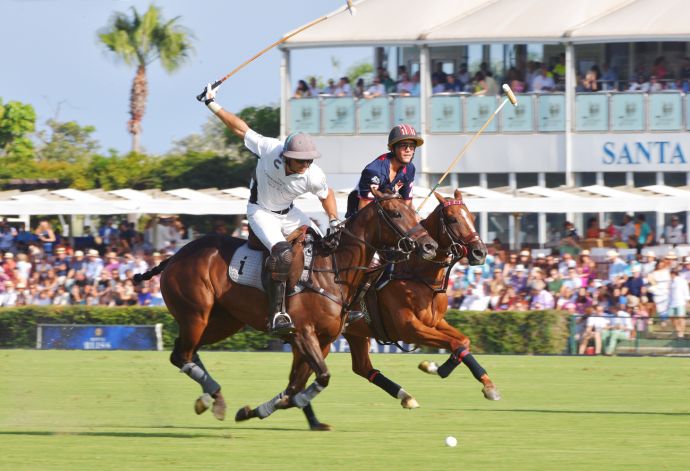 How to Get to Sotogrande
It's easy to reach Sotogrande from Gibraltar Airport. Follow the A-2100 road and the journey lasts around twenty minutes. When travelling from Malaga Airport, take the A-7 coastal road. It takes approximately one hour. Driving from Marbella takes around forty minutes. Sotogrande has good transport connections to the rail network at San Roque and other locations in Cadiz and Malaga.
Come to Live to Sotogrande Thanks to James Stewart in Association with Savills
Where is Sotogrande? It's in the most desirable region of southern Spain. The real estate agency, James Stewart in Association with Savills, has been based in Sotogrande for thirty-three years. We have helped many ex-pats relocate to unique properties in the resort. We're confident we can find the perfect luxury villa or apartment for you in this wonderful location. Contact us today, and we'll help transform your life.