Sotogrande Marina and Puerto Deportivo
Guide by James Stewart
Sotogrande Marina and Puerto Deportivo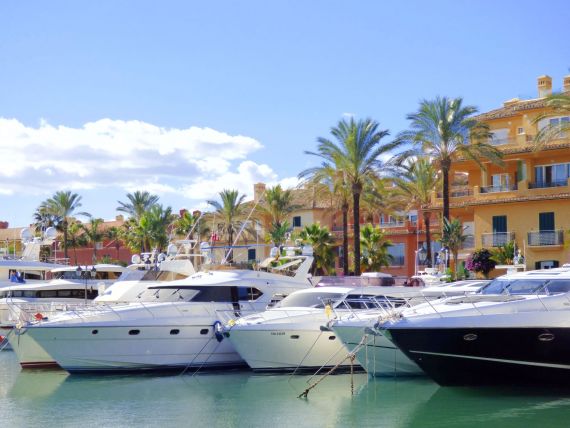 The Puerto Deportivo de Sotogrande was inaugurated in 1989 and is known to be one of the prettiest ports on the Costa del Sol. This port is known for its pastel shade painted buildings, Andalus style plazas with orange trees and amazing view of the Rock of Gibraltar in the distance. There is a great choice of restaurants, bars, shops and the MIM hotel onsite.
Apartments here range from studios to large penthouses all enjoying the convenience of having the amenities of the port and the beach at their doorstep.  There are a total of 548 berths here ranging from 6 to 25 metres length which can be bought or rented.
In the late 1990s work started to add more berths and offer more quality apartments to cope with increasing demand.  This time a Marina was created to the West of the Puerto around a network of man-made water canals with apartment blocks with their own berths on their doorstep.  These apartments are an eclectic mix of styles that all enjoy canal views and the convenience of a walk away from beaches and the port.  There is only one final block to be built which will complete the Marina.  Here there are an additional 832 berths available between 6 and 20 metres long.
Neighbourhood characteristics
Sotogrande commands a captivating maritime location, only a short distance from where the Mediterranean sea meets the Atlantic ocean. The port and marina have been conscientiously designed to incorporate life on the water into this peaceful urban setting.
The architecture and gardens of both the Puerto and Marina add a colourful backdrop to the rows of sailing boats, blending life on land and sea together harmoniously.
It's certainly one of most impressive examples of waterfront developments present to this day in Andalusia and certainly the prettiest.
Local convenience
Aside from its attractive façade, Sotogrande marina is well equipped to cater for life's everyday needs and desires.
There are fantastic range of shops, galleries, restaurants and wellness centres. Throughout the year there is the Sunday street market along the Marina promenade with an eclectic mix of boutique stalls. During the summer months the market also opens in the evening and is the ideal place to shop, stroll and people watch!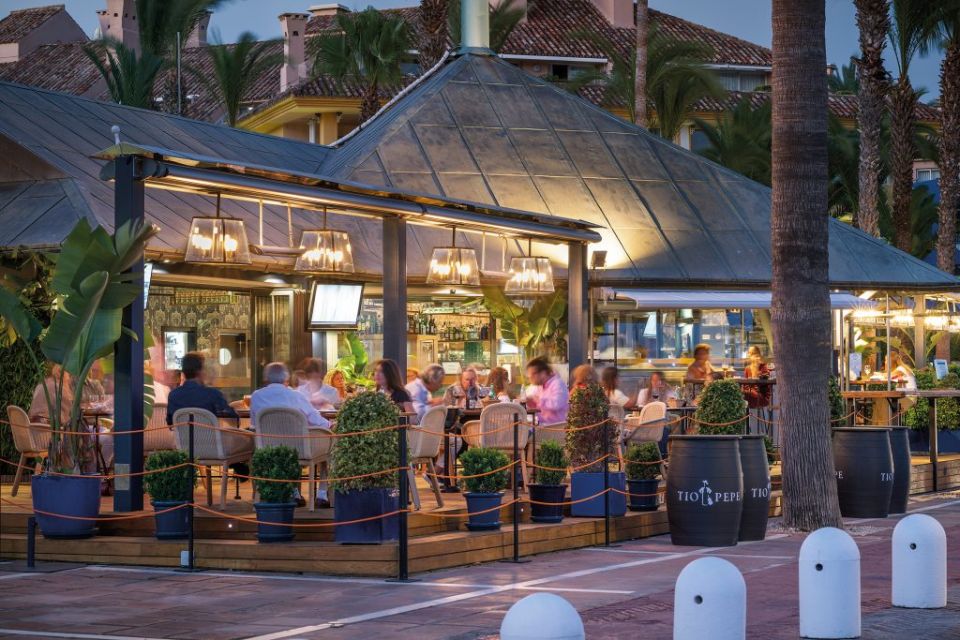 Home to the Sotogrande Real Yacht Club, and over 1350 berths, Sotogrande is a sailing paradise from small powerboats to magnificent liners arriving from across the Ocean.
There are several beaches to enjoy all within walking distances of the marina residences, so this is a super convenient location that can be enjoyed without the use of a car.
Waterfront views
As to be expected from a waterfront location, properties around the marina enjoy delightful views of bobbing boats, palm trees and open sea panoramas. It's a fantastic spot to sit back from your terrace and watch the world go by. Depending on the orientation of the property, you may get vistas of Torreguadiaro beach or the Guadiaro River, but there's really no such thing as a bad view from Sotogrande marina.
What's it like living in Sotogrande Marina?
If you dream of a life by the water, within walking distance to bars, restaurants, shops and beaches, Sotogrande Marina delivers.
It offers a sophisticated café culture at its best with a large choice of venues. The perfect place to meet friends for coffee or lunch at the KE bar or sip a sundowner cocktail before dinner at Midas or Fresco. There is a gentle hustle and bustle that fills the streets with a relaxed yet jovial atmosphere. As is typical in Spain, life is enjoyed by all age groups and it's common to see groups of several generations sitting out on the terraces with children playing without a care in the world, thanks to the innate sense of safety and tranquility.
Charter a yacht for the day, anchor up and lunch at one of the many chiringuitos or beach clubs along the coast. De-stress with a leisurely fishing trip through the Straits of Gibraltar and keep your eyes peeled for the whales and dolphins that are common sightings in this unique location.
It's been proven that the mere sight and sound of water can induce a feeling of well being and relaxation, so if you're looking for a laid-back lifestyle with modern amenities at your fingertips, Sotogrande Marina could be the ideal location for your next property.
Property in Sotogrande Marina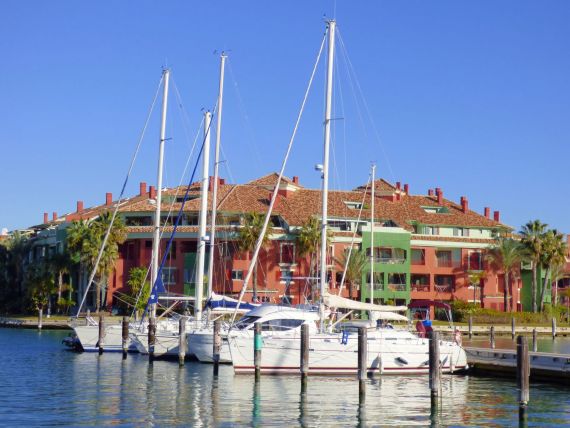 The marina offers over 1400 beautifully designed, luxury water-front or island homes. You can mostly expect to find apartments and townhouses in this particular part of Sotogrande due to the waterfront design.
Many urbanisations will have their own communal pool. As development designs have evolved in recent years, it is becoming more common to see complexes with their own in-house leisure facilities which often include gyms, spa centres, children's playgrounds and concierge services. For those that want the very best from marina apartment living, there are some stunning penthouse apartments boasting their own private rooftop pools.
For more spacious plots, independent houses and villas, its probably better to explore some of the other neighbourhoods in the area. However, if you like the convenience of having everything on your doorstop and yearn for the sights and sounds of the sea from your home, you won't find a better location than the marina.