Sotogrande Alto
Guide by James Stewart
Sotogrande Alto – Privacy, Tranquility and Luxury
Discover the secret world of Sotogrande Alto where privacy, tranquillity and luxury are built into its fabric.
Originally created from five large farms over 1,800 hectares, Sotogrande came into being in the early 1960s as the first planned country club environment in Europe, complete with a long-term master plan that allowed for the orderly development of a collection of residential communities, each one with its own ambience and appeal. This is what makes Sotogrande stand out from the crowd, as it remains spacious, organised, well laid-out and discreet with excellent facilities.
Sotogrande 'Alto' is the naturally elevated countryside region extending inland from the coastal road. Elevation and orientation dictate the views that can be enjoyed, however it's safe to say this is one of the best spots for impressive panorama's. These can be unrivalled coastal views stretching from Marbella to Gibraltar, the mountain ranges of Africa, the surrounding Sierras or golf courses and their lakes. This area is popular with those looking for tranquillity and privacy yet with an elevated outlook of the surrounding beauty.Easily reached from exits 127 and 130 on the A7/ N340 highway and served by a network of well-maintained roads within the area, Sotogrande Alto lies less than 20 minutes from Gibraltar Airport and just over 1 hour from Málaga International Airport.
Neighbourhood characteristics
Encompassing hectares of stunning cork and pine forest and served by two top golf courses, world famous Real Valderrama (Ryder Cup ´97) and Almenara. Sotogrande Alto is also home of the SO/ Sotogrande 5* hotel and Spa.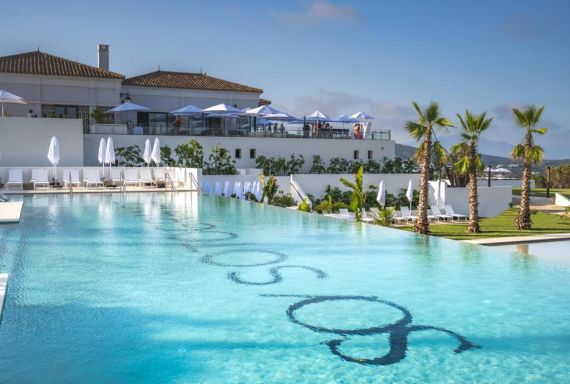 Local convenience
A short drive or bicycle ride finds you at one of Europe's most beautiful Yachting Marinas with its many cafes, bars, shops, and restaurants.
Residents are well serviced with wide selection of shops, services, clinics, cafés and restaurants to be found at the neighbouring Pueblo Nuevo, Sotomarket and Mar y Sol Commercial Centre which is just a short drive away.
A higher outlook
Given Sotogrande Alto's elevated position, the majority of properties enjoy unspoilt views over the surrounding countryside, undulating golf courses and down to the Mediterranean Sea. These unbeatable views are one of the reasons many buyers choose Sotogrande Alto over other neighbourhoods in the zone.
The natural topography is also why this location was chosen as the site for two of the outstanding golf courses in the area.
What's it like living in Sotogrande Alto?
Sotogrande Alto appeals not only to golf enthusiasts but is also a wonderful place to raise a family. The proximity of the acclaimed Sotogrande International School, offering the IB diploma means school friends are always close by.
It has been scientifically proven that spending time in nature reduces stress, lowers blood pressure, and elevates mood. With endless opportunities in Sotogrande Alto to hike, bike, explore and discover there is an opportunity to improve your health and wellbeing around every corner.
Property in Sotogrande Alto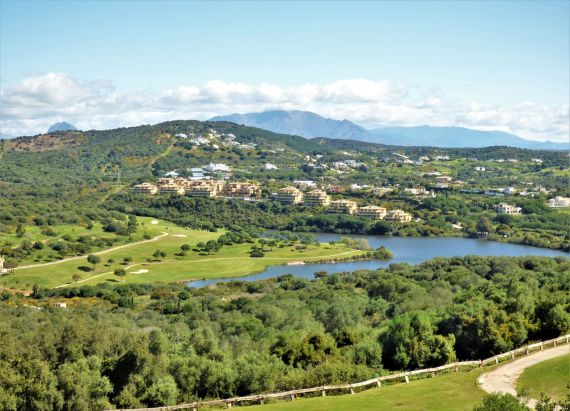 Properties are laid out in Zones C, D, E, F and G with prospects to suit all budgets and each zone defined by the street names all starting with the relative letter.
As a buyer, you will find a large choice of apartments, townhouses, older stately villas, and modern mansions, along with the potentiality of vast building plots on the slopes above some of the most famous golf courses in Europe.  There are gated communities of apartments such as Valgrande, Hacienda de Valderrama, Casas Cortijos, Mirador del Golf and Los Gazules.  For townhouses or semi-detached villas you have Las Cimas I & II, Patio Home, Sotogolf, Los Carmenes, Sotomar, Las Terrazas, and Triana Villas.  The only gated community of villas is called Altos de Valderrama.  Building will commence shortly on The Sphere which together with Village Verde will ring in a new generation of quality apartments in the area.
Fundamentally, amazing properties and facilities can be built anywhere, but you cannot recreate the unique essence of Sotogrande. The Alto region is the largest neighbourhood and has so much to offer for discerning homebuyers. If spectacular views and a sense of wellbeing and serenity are top of your wish list, Sotogrande Alto is a must for your property search.