Lifestyle & Leisure
Guide by James Stewart
Sotogrande Leisure & Lifestyle
The inaugural plans for the development of the Sotogrande resort were not based solely around the construction of luxury homes. What makes Sotogrande so exceptional is that lifestyle and leisure were sewn into the fabric of the masterplan.
Pristine palm tree-lined avenues and secure gated communities coupled with world-class golf courses, a yachting marina, polo club, an international school and sporting and leisure activities to suit all tastes. Sotogrande offers an aspirational lifestyle to those who appreciate an elevated standard of living.
What type of person does Sotogrande appeal to?
Sotogrande is a family-oriented resort, offering a safe, relaxed and secure lifestyle; a true paradise for those who seek wellness and outdoor activities.
Sotogrande attracts a sophisticated international crowd looking for a balance of work and play. A home base where it is safe to raise a family in spectacular natural surroundings and with access to the area's prestigious International School, considered to be one of the best in Spain.
For those who love the great outdoors, there are endless opportunities to explore and connect with nature in the wide-open green spaces, hills, rivers, and beaches allowing a lifestyle of health and wellness for all the family.
The gated community of Sotogrande undoubtedly has an air of understated glamour and luxury, offering its discerning residents a sense of peace and discretion.
What is the climate like in Sotogrande?
On average, Sotogrande enjoys over three hundred days of sunshine a year. Long warm summers and mild alfresco living continue throughout the year, facilitating an active outdoor lifestyle for which Sotogrande is so famous.
What is the culinary scene like – is there choice?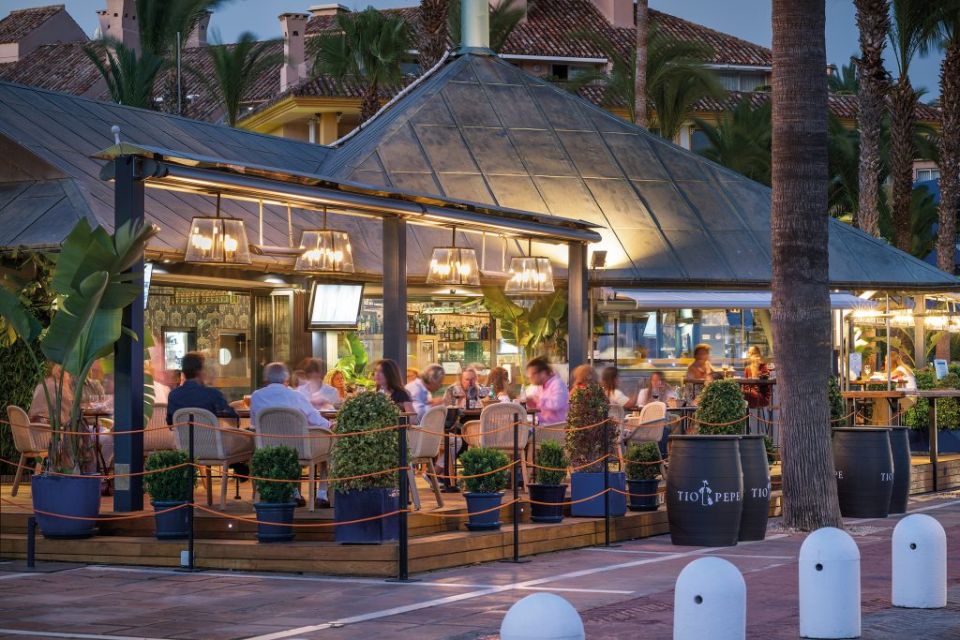 Each year more places are opening bringing even more variety to the culinary scene in Sotogrande.  There are the old favourites like the KE bar, Hairy Lemon or Midas in Sotogrande port, various Argentinian style "asador" meat grill places like La Reunion, Cancha II or El Gaucho, casual sea food at the chiringuitos or Trasmallo and really good fusion style tapas places like Pura Tapa, InBoca and La Verandah.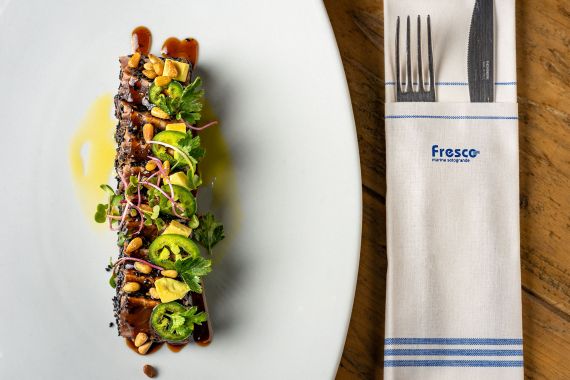 New arrivals which have expanded the offering for vegetarian and creative dining are Fresco and Foodisiac in the Marina promenade.  For specialist international cuisine, we have Italian with Lombardos, Japanese fusion with Don Diego & Brosko and various choices for Indian, Belgian and of course Spanish fayre.
What happens in Sotogrande ?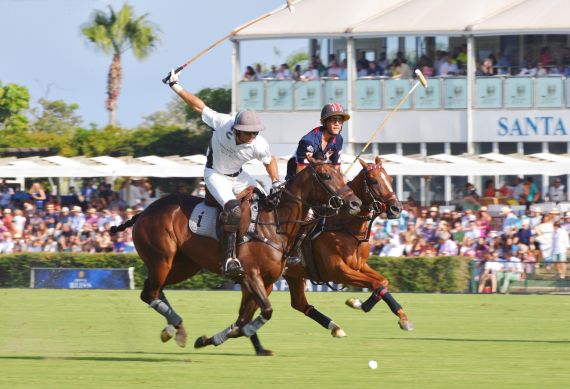 International Polo Tournament 
Sotogrande's Santa Maria Polo Club with its outstanding hospitality facilities makes it one of the four most important polo venues of the world.
It is home to the International Polo Tournament which takes place annually from late July to the end of August when professional Polo teams arrive in Sotogrande from Dubai, Argentina, England, Austria, Brunei, and France to compete in front of thousands of spectators.
Polo was introduced to Sotogrande in 1965 by Enrique Zobel and today there are polo fields close to Sotogrande Marina a short distance inland. As one of the oldest sports in the world, Polo comes with noble origins, often referred to as the "game of the kings", so be prepared to don your Panama hat and enjoy a gin and tonic at one of 30 annual tournament days at Sotogrande's Polo Clubs.
 Sotogrande's 5 world-class golf courses host a multitude of year-round tournaments for amateurs and professionals alike. The jewel in the crown is Real Club Valderrama which hosted the '97 Ryder Cup and will now be LIV´s first tournament venue in continental Europe.
 The Sotogrande Yacht Club hosts at least twenty regattas per year, including local, regional, national, and even global catamaran, Hobie Cat and cruise races. Two of its prestigious annual activities are the RC44 World Championship Tour dubbed the 'Formula-1 of sailing' and the J80 World Championships, which captivate the worldwide sailing community and draw Sotogrande into the global limelight.
For a more low-key local events, there's the Interclub del Estrecho sailing competition organised each November by the Royal Gibraltar Yacht Club.
Throughout the year the Marina promenade hosts the Sunday market, famous for its chic and colourful stalls, offering stylish artisan jewellery, clothes, beachwear, art and food. There is also a night market on selected evenings during the summer to enjoy once the sun goes down.
Sotogrande Beach "Chiringuitos"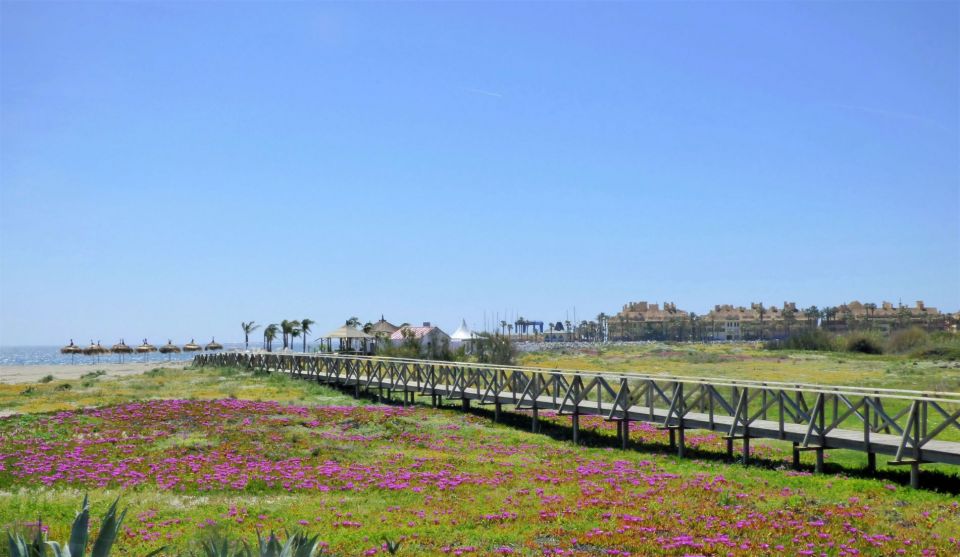 In the Spring around Easter time, Sotogrande beaches welcome the opening of the Chiringuito beach bars which appear every year to suit every taste. There is elegant Chambao, hippie-chill Bahia Lemon and very popular Gigi´s to name a few. Apart from excellent food and drink, parties till the early hours and live music, you can book sunbeds or Balinese beds for the day.  Try fresh sardines and other fish grilled "espeto" style on vertical sticks against charcoal  …
Musical Events (summer)
Experience the best of Spain´s musical heritage at the vibrant Flamenco Festival, held at Trocadero Beach Club.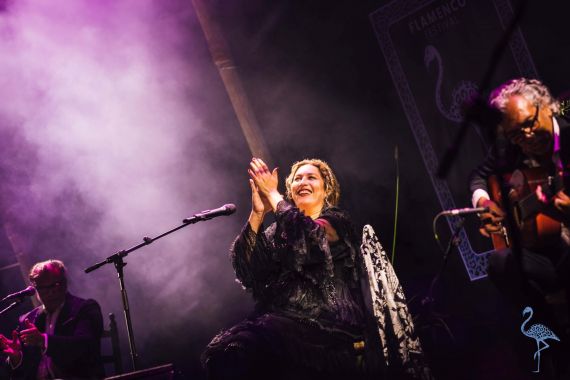 Flamenco is an art form steeped in history, an interplay between the Gypsy, Andalusian, Sephardic and Islamic cultures of historic Southern Spain. The festival showcases a fusion of old and new folkloric music and dance, along with local gastronomy makes it a wonderful outing for all the family.
 The Sotogrande Music Festival held at the Santa Maria Polo Club offers a fabulous calendar of live music events throughout the summer.
This fantastic event held from June to September has a top class line up of international music stars performing in what was a disused quarry which makes these open air night time concerts a truly memorable experience.  In 2023 artists include Rod Stewart, Norah Jones, Tom Jones, Luis Fonsi, Lionel Richie, Black Eyed Peas, Zaz, Seal and Ricky Martin to name a few…
 The Arts Society de la Frontera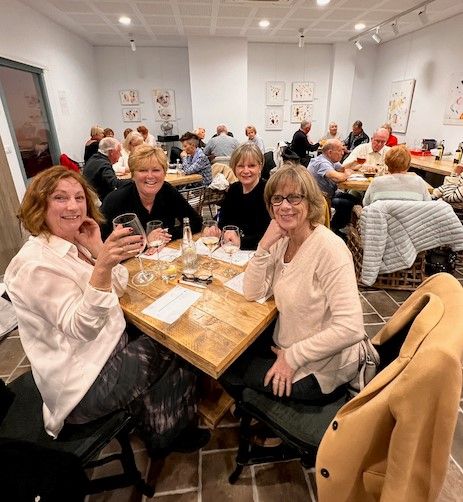 This is a great members group for art lovers with monthly lectures by guest experts on a wide variety of art related topics.
What sports can be enjoyed in Sotogrande?
Choosing to have a base in Sotogrande will ensure you are never at a loss for things to do, at any age.
Golf
The Costa del Sol is a mecca for golf lovers and Sotogrande has a rich history steeped in the sport, home to five legendary golf courses:
Real Club de Golf Sotogrande 
Opened in 1964 Real Club de Golf Sotogrande is considered one of the masterpieces of Robert Trent Jones, the most prestigious designer of the time. In keeping with the vision for the Sotogrande resort, its design perfectly integrates with the natural surroundings.
Built in the Kings and Queens region, 150 metres from the Playa de Sotogrande, the course has a par of 72, offering long tees, wide fairways and elevated greens, making it a fascinating course for players of all levels.
Club de Golf de La Cañada
Golf de La Cañada was the first municipal golf course on the Costa of the Sol, located in the valley next to La Reserva on the 'alto' side of Guadiaro with excellent views.
This course has a wonderful academy for junior golfers, so if you have children, it is the perfect place for them to start.
Located next to Los Alcornocales natural park, the beautifully renovated Almenara Golf Club is the ideal place to enjoy a round of golf surrounded by nature. The club shares facilities with the exclusive SO/ Sotogrande Hotel Resort and Spa.
Play the region's newest championship course, a fitting next chapter in Sotogrande's proud golfing legacy. Carved into the hillside with natural vistas in every direction, the 18-hole course and stunning Country Club offer a contemporary experience that defines the area today.
Real Club de Golf Valderrama
The most famous and spectacular of all, Real Club Valderrama Golf Course, designed by Robert Trent Jones opened in 1974 has a rich history of tradition and excellence. Consistently ranked as number one in Continental Europe since the late 80's. Regularly hosting major international tournaments including the Spanish Open, the Volvo Masters, and most famously the 1997 Ryder Cup.
The course enjoys a plethora of flora, fauna and wildlife and was the first golf club in Europe to achieve environmental certification; a commitment to protect and conserve the biodiversity and the natural environment.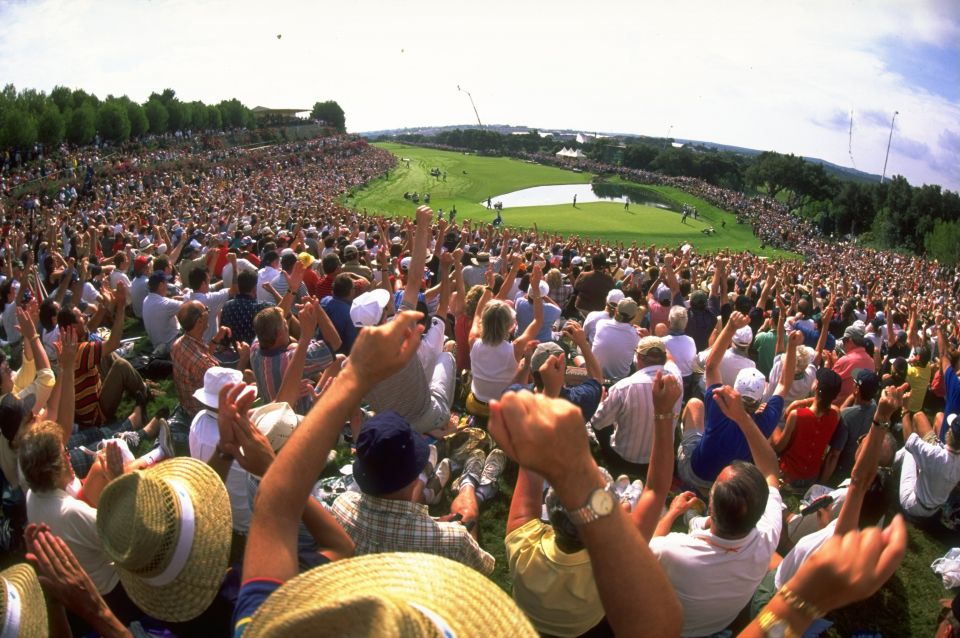 Polo
Take lessons with Polo Sotogrande where their goal is to make this fast-paced, adrenaline-filled 'sport of kings' accessible to everyone. You do not need any equestrian experience to start. Combine a passion for horses with a team sport or simply enjoy days out watching the various tournaments at the Santa Maria Polo Club.
Tennis/ Padel
With the ever-increasing popularity of padel tennis, there are a number of great clubs around Sotogrande to enjoy the sport, including the all-new Racquet Centre at La Reserva. The Sotogrande Tennis Academy, based at El Octogono, prepares players for the ATP tour and is one of the best in Europe. The Sotogrande Racquet Centre next to the beach is also an outstanding facility.
– Sotogrande Racquet Centre
– Padel Tennis Club "The Octagono" Sotogrande
– Racquet Centre – La Reserva Club Sotogrande
Skiing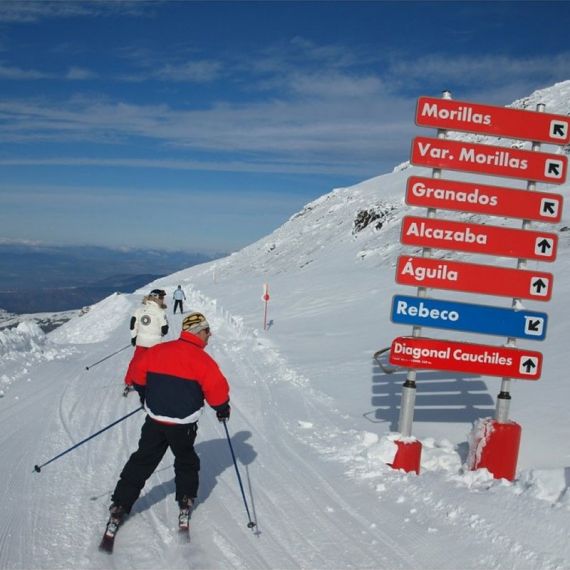 Yes, you´ll be surprised to know that the Sierra Nevada Ski Resort is only about a 3 hour drive away.  It is one of the most southern ski resorts in Europe and is usually open between November and Easter (photo @snowpass.com)
Life on the open water…
Being so close to the water, there is an extensive choice of water sports, including rowing, paddle boarding, kitesurfing, water skiing and scuba diving. Non-motorised water sports can also be practiced in the spectacular man-made lagoon located in La Reserva Club.
Sailing is known as one of the most wonderful activities to experience a sense of freedom and connection with nature and Sotogrande provides every opportunity to participate.
For seasoned sailors and boat owners, or for novices wanting to learn the craft, there are several excellent sailing schools in and around Sotogrande. If your goal is to achieve your Yacht Master certification, the tidal waters of the Gibraltar straits and Atlantic Ocean are right on your doorstep.
Hobie cats and dinghy sail boats are a fun way to learn how to understand the wind and water and are especially popular with the younger residents of Sotogrande.
I want to explore the great outdoors…
Although the Costa del Sol is known primarily for its coastline, the area is also graced with extensive mountain ranges offering endless opportunities for exploration.
Sotogrande and the surrounding areas are perfect for exploring the natural landscapes through hiking, biking, horseback and four-by-four wheel drive.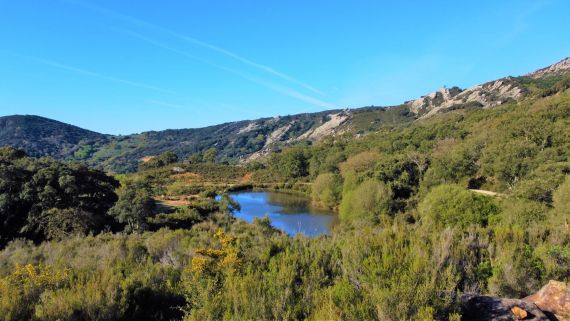 Los Alcornocales Natural Park
The park covers an area of 170,025 hectares, situated between the provinces of Cadiz and Malaga and is the world´s largest cork oak forest. There are countless trails to explore for all levels and abilities, whilst enjoying the blissful shade of the woodland canopy.
Wikiloc App
Discover the most beautiful hikes in the region (and the world) using this brilliant outdoor trail navigation app.
The Castellar de la Frontera Castle
The Castle is located in the heart of Castellar Viejo, a 30-minute drive away on a mountain between the Hozgarganta and the Guadarranque rivers, in Los Alcornocales Natural Park, just few minutes from the Guadarranque Dam & Reservoir. An outstanding example of one Europe's best preserved historic citadels
Claudio Baelo Roman Ruins, Tarifa
Fabulous ruins of a sea side Roman city that were excavated in 1917. It dates back to the century 2nd century B.C. and are the most comprehensive Roman ruins on the Iberian Peninsula. It is open all year round and the excellent museum alone is worth a visit.
Tarifa
The windsurf capital of Europe, and closest European town to Africa, is only a 40-minute drive away. It is steeped in history, with its name hailing from word "tariff" as boats had to pay a charge to enter or exit the Mediterranean. It comes alive in the summer with a uniquely Spanish hippie vibe.
Where is there nearby to go for a day trip or weekend away?  
Andalucia is a fascinating region of Spain blessed with beautiful scenery, friendly people and of course fabulous weather.  We are located at the southern tip of Andalusia meaning we have 5 fascinating cities full of history close enough to comfortably drive to and enjoy.  On the way there you will pass beautiful white washed mountain villages and small hamlets, all worth stopping by.  Don´t forget about our southern neighbour Morocco which is just a short boat trip away across the Mediterreanean.
 Costa de la Luz
The coast from Algeciras heading west to the Doñana National Park is known as the Coast of Light and famous for its golden unspoilt beaches and fabulous seafood which you can enjoy in the various fishing villages that run along the coast.
Malaga city
The city of Malaga just over an hour´s drive away is currently considered the fasted growing city in Spain. Packed with museums, galleries and exhibitions it is the cultural capital of the region. The historic city centre, great choice of food and old bars, fascinating Alcazaba citadel (below) dating from the 11th century, impressive port and the most famous Christmas lights in Spain makes it a great day trip or weekend away (photo @Jose Luis Parra Olmo)

Cadiz city
The capital of the province of Cadiz, (where Sotogrande is) this city is often overlooked yet it is just as charming as the other Andalusian cities with the advantage of being smaller and easier to navigate on foot.  It is about 1 hour and 20 minutes away by car.  The old town which is like a peninsula is possible one of the oldest cities in Europe.  On the way there you can stop in various fabulous towns on the Costa de la Luz to enjoy fresh seafood.
Seville city
The wonderful city of Seville which is bursting with Andalucian charm is only 90 minutes drive away.  It is the capital of the region of Andalucia and the most populous dating back to the 8th century.  A great weekend get away destination, Seville seems to have something to look at at every turn.
Corboda city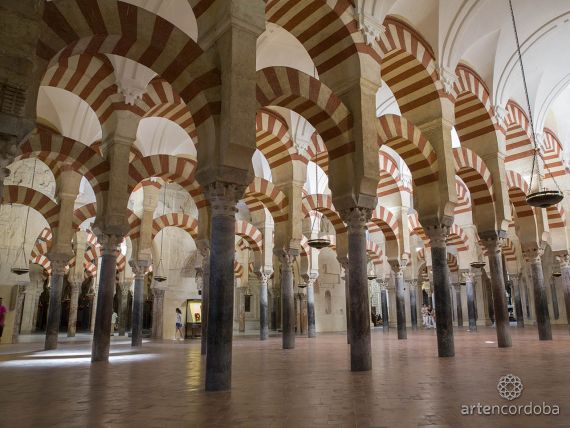 This is slightly further away at around 2.5 hours drive but has some gems to view.  The Mezquita of Cordoba is a UNESCO World Heritage site and uniquely is a mosque that was later converted into a church yet partially maintains the Islamic interior.  The night tour of the amazing building is not to be missed.
Granada city
Apart from being the gateway to the Sierra Nevada ski resort, the city of Granada has a different vibe from the other provincial capitals of Andalusia.  The outstanding Alhambra palace of course isn´t to be missed and the city with it´s "flamenco" vibe and great tapas and nightlife thanks to the University.
Jerez city
The home of sherry is an hour´s drive away. It is a beautiful city which is very compact and easy to enjoy on foot. You can embark on sherry bodega tours, wander about the old town and also visit the Royal Spanish Equestrian School which puts on some superb shows.
Tangiers, Morocco
You can jet across the straits of Gibraltar by hovercraft from Tarifa and within 40 minutes you are in the heart of the city of Tangiers.  Have lunch, shop 'til you drop and be back home for dinner!